Wednesday, April 6, 1921: The Privy Council decided to lighten the burden of Emperor Taisho signing the medal for merit in his own hand. Previously, the title had been written by the third or higher rank calligrapher, but it was changed to the second or higher rank. A medal for merit is a certificate which is given to a recipient of a decoration and sealed with the seal of state, and the emperor himself signs the higher rank. The work load to the emperor increased recently with the increase of the persons with merit, and the Ministry of the Imperial Household regarded it as a problem.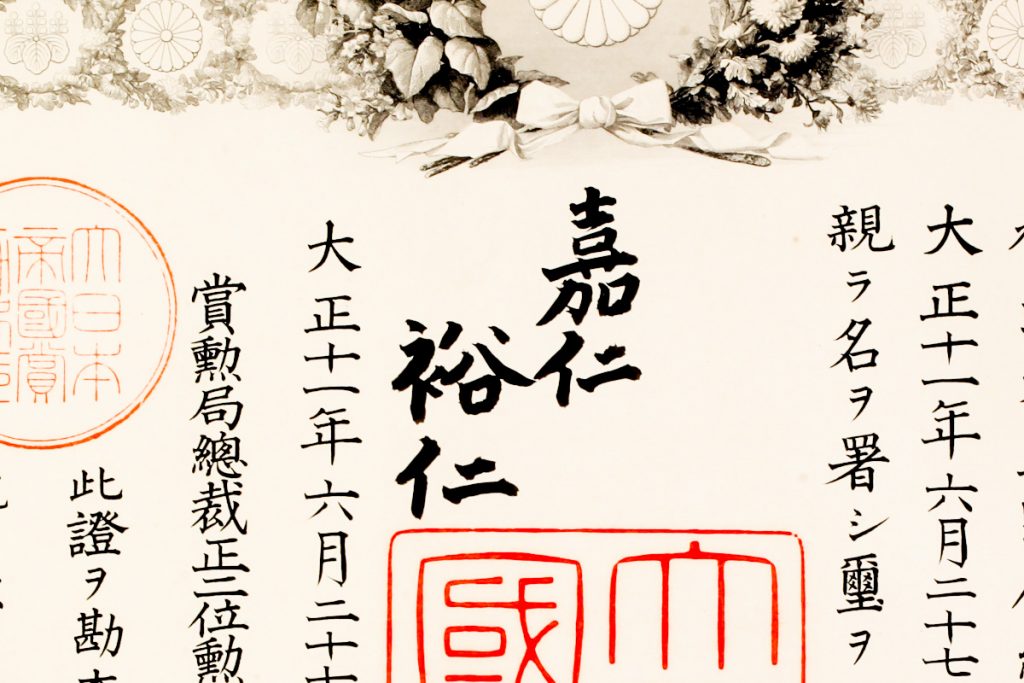 He attended the meeting of the Privy Council. Your Majesty's signature, for too many cases in recent years, the Record of Merit has been passed by the signatures of persons of the third grade or higher on the revision of the second grade or higher, the passage of the revision of the official ordinance, and two other resolutions. I go to Koshigoe villa in the afternoon. 'Diary of Takashi HARA, Volume 5, the period of the Prime Minister' edited by Keiichiro Hara , Fukumura Publishing , 1981 , page 370
In fact, even today, it is recognized that the signature and seal of His Majesty the Emperor are a great burden. According to the "Final Report of the Advisory Panel on the Reduction of the Burden on the Emperor's Official Duties" published on April 21, 2017, one of the emperor's constitutional acts was to sign and affix his seal on 1,034 occasions in 1983 when Emperor Showa was 83 years old, on 1,105 occasions in 1991 when the former emperor and retired emperor Akihito were 57 years old, and on 1,009 occasions in 2015 when he was 83 years old.
It is estimated that there are more than 1,000 cases a year. As documents are delivered and signed and sealed during visits to local areas and recuperations, the reality is that there are basically almost no complete holidays. Behind the Retired Emperor Akihito's announcement to the people around him that he would "abdication while alive" was his busy daily life.