1921 (Taisho 10) Tuesday, November 29 Nanyo Kohatsu Co., Ltd. was established on Saipan Island, a mandated territory of Japan. The central figure was a businessman, Matsue Haruji. Matsue was 45 years old at that time.
Haruji Matsue was born on January 15, 1876 as the second son of Hisahira Matsue, a former police officer of the Aizu Clan in Aizuwakamatsu City, Fukushima Prefecture. His older brother, who is four years older than him, is the chief of the Tokushima POW camp (later a major general of the Army), known as the main character of the movie "Balto no Rakuen".
In 1895, Haruji Matsue graduated from the former Aizu Junior High School (now Aizu High School), a branch school of the Aizu domain school Nisshinkan, 28 as a member of the inaugural class. His classmate is Hideyo Noguchi, a bacteriologist. They seem to have been close all their lives. In 1899, he graduated from the current Tokyo Institute of Technology 32 and joined Nihon Seito, which is known to have been founded by Eichi Shibusawa.
In 1903 (Meiji 35), he studied at Louisiana State University as an overseas business trainee for the Ministry of Agriculture and Commerce, where he earned a master's degree in graduate school and learned the latest sugar manufacturing technology by visiting many sugar manufacturing companies in the United States. After studying in the United States for 5 years, he returned to Japan in 1908 40 and became the Osaka Plant Manager of Dainippon Seito (renamed from Nippon Seito in 1906), and succeeded in producing Japan's first sugar cube.
When Suzuki Shoten established Toroku Seito in Taiwan in 1912, Shunji Matsue became a senior managing director of Toroku Seito and later also served as a managing director of Shinko Seito in Taiwan. Suzuki Shoten, under the leadership of Naokichi Kaneko, the Oban gashira, had made great strides in the camphor oil business in Taiwan, and had invested actively in the sugar industry as a promising business in Taiwan next to camphor.
In early 10 1921, Haruji Matsue surveyed the South Sea Islands Saipan and Tinian, which became the Mandate of the Empire of Japan after the First World War, and discovered the great potential of the sugar industry there. Nanyo Shokusan Co., Ltd. and Nishimura Takushoku Co., Ltd. had already been established as pioneering efforts in the area, but both went bankrupt, leaving 1,000 employees behind. Haruji Matsue is determined to rescue these unemployed and start a South Sea sugar industry on his own.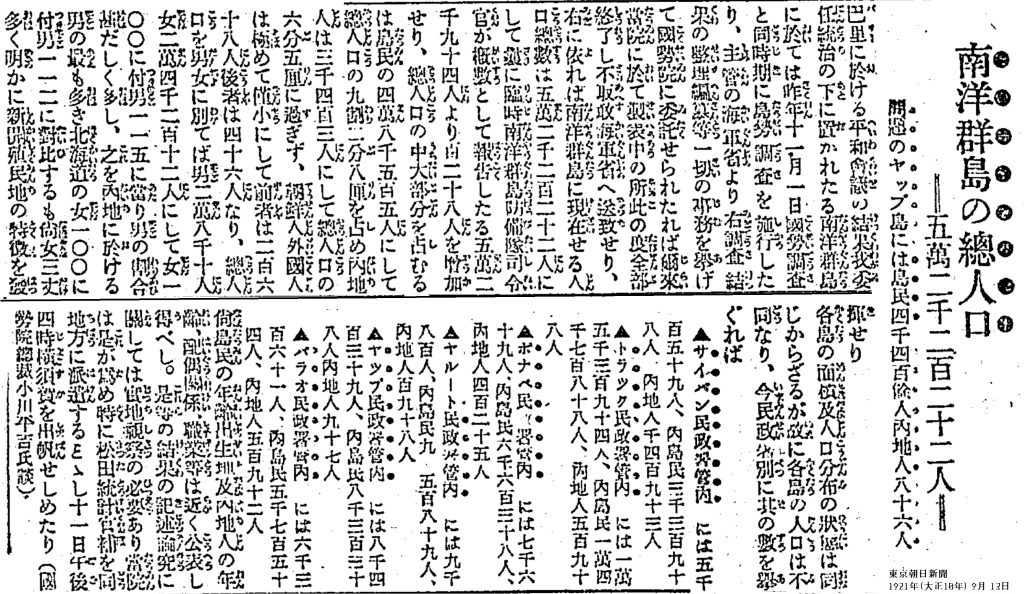 On November 29, 1921 (Taisho 10), Nanyo Kohatsu was established in Chalan Kanoa in the southern part of Saipan Island with 70% investment from Toyo Takushoku, a national policy company for the development of the Korean Peninsula. Haruji Matsue, under the title of senior managing director of Nanyo Kohatsu, will effectively develop the company as the founding president.
Haruji Matsue installed the latest sugar production facilities made by the German company Groven Breuzig, and laid nearly 50 km of railway line. About 2,000 residents of Okinawa Prefecture were employed as employees and emigrated to the islands of Saipan and Tinian. Sugar production will increase from 9,000 tons in 1925 14 to 68,000 tons 10 years later in 1935 (Showa 10).
Since the 1930s, Nanyo Kohatsu has become a national policy company supporting the infrastructure of the region, and in addition to the main sugar industry, Nanyo Kohatsu will be involved in many other businesses, including fisheries, agriculture, sake brewing, mining, oil and fat industry, transportation, and trade. By the 1940s, the company had 48,000 employees, making it as large as Mantetsu. Haruji Matsue became known as the "Nanyo Kohatsu in the south" and became known as the Sugar King.
In 1943, Haruji Matsue retired as an advisor to Nanyo 18 Kohatsu. In the Battle of Saipan, which was fought from June 15 19 to July 9 in 1944, 67000 American landing troops commanded by Lieutenant General Holland Smith were defeated by 30,000 Japanese defenders led by Yoshitsugu SAITO, commander of the 43 Division. Many Japanese civilian residents were also killed, but many of them were employees of Nanyo Kohatsu.
Haruji Matsue lost almost all of his assets at the end of the war, but he continued to serve as a director of the Sugar Association, and in his later years, he wrote in large letters that he had "nothing by nature" or "nothing from birth.". He died of a cerebral hemorrhage on November 29, 1954 (Showa 29). He was 79 years old. Incidentally, the anniversary of his death was the founding date of Nanyo Kohatsu. His grave is located at Kogan-ji Temple in Aizuwakamatsu City. Even today, a bronze statue of Haruji Matsue stands as a symbol at the Sugar King Park in Garapan, the largest city on Saipan Island.