1921 (Taisho 10) Friday, December 2 The painter Taniuchi Rokuro was born in Ebisu, Tokyo. My father, Hisamatsu TANIUCHI, was from Kitaganitani Village (current Oyabe City), Toyama Prefecture, and worked as a dormitory keeper at a veterinary school. He was born as the sixth son, as Rokuro's name suggests.
Taniuchi Rokuro studied at Komazawa Jinjo Koto Elementary School (now Komazawa Elementary School in Setagaya Ward), but he was prone to getting sick, and from the time he was 6 ~ 7 years old, he was often confined to his sickbed because of his chronic asthma. Since I was in elementary school, my drawing grades have been top class. After graduating from elementary school, he continued to study painting on his own while working as an apprentice at an electronics factory. In addition to his part-time job as a signboard painter, he often published comics in newspapers and magazines, and during the war he was also at the Navy Yard.
Inspired by his eldest brother, Taniuchi Ichiro, who was a progressive painter of socialist realism, Rokuro also drew political cartoons on the streets of Ginza with his manga colleagues, Zentaro Suzuki and Mitsugu Katayori, after the war. He also published a four-frame manga series titled "Shinji Ichiro Kun" in the left-wing magazine "Minpo," and worked energetically. He suffered from a nervous breakdown and was repeatedly hospitalized.
In 1954 (Showa 29), Taniuchi Rokuro met Ito Ippei, a manga critic. Ito launched the comic satire magazine "VAN" in 1946 21 as the executive managing director of Evening Star, and was active as the editor-in-chief. When Ito saw a picture drawn by Rokuro Taniuchi, he immediately recognized his talent and brought the picture to Bungei Shunju.
In "Manga Yomihon" in 1955, 30 10 works of Rokuro Taniuchi "Gone Children" were published in 8 color pages. The following year, Yanai won the first Bungei Shunju Manga Award for his "Adult Picture Book.". It is said that Eiji Yoshikawa, who was a member of the selection committee, praised it highly. Above all, "The Slope of the Beer Company" is an impressive work of two children on a slope near the beer factory in Ebisu where he was born. With this award, Yanai's name recognition has been rapidly expanded.
In 1956 31, Taniuchi Rokuro was assigned to cover the first issue of Weekly Shincho. In the first issue published on February 19 of the same year, Taniuchi Rokuro painted a landscape of Onjuku, Chiba Prefecture, where he frequently visited for medical treatment since his childhood. For the first 25 years of its publication, Taniuchi Rokuro painted its cover until his death. The lyrical children's paintings featuring children in each issue of Yanai remained the face of "Weekly Shincho.". Attractive paintings that evoke nostalgia and make people forget the rush of daily life have become very popular. The total number of the covers of "Weekly Shincho" that I drew is 1336.
One of the cover pictures of "Weekly Shincho" by Taniuchi Rokuro is now a symbol of Omotesando intersection in Tokyo. It is popular as a mosaic mural of Sanyo bookstore, a long-established bookstore located beside the police box at the intersection. The hole in the umbrella is the best star, which is a wonderful picture. I sometimes ride my bicycle through Omotesando, and I am always comforted by this huge nostalgic painting.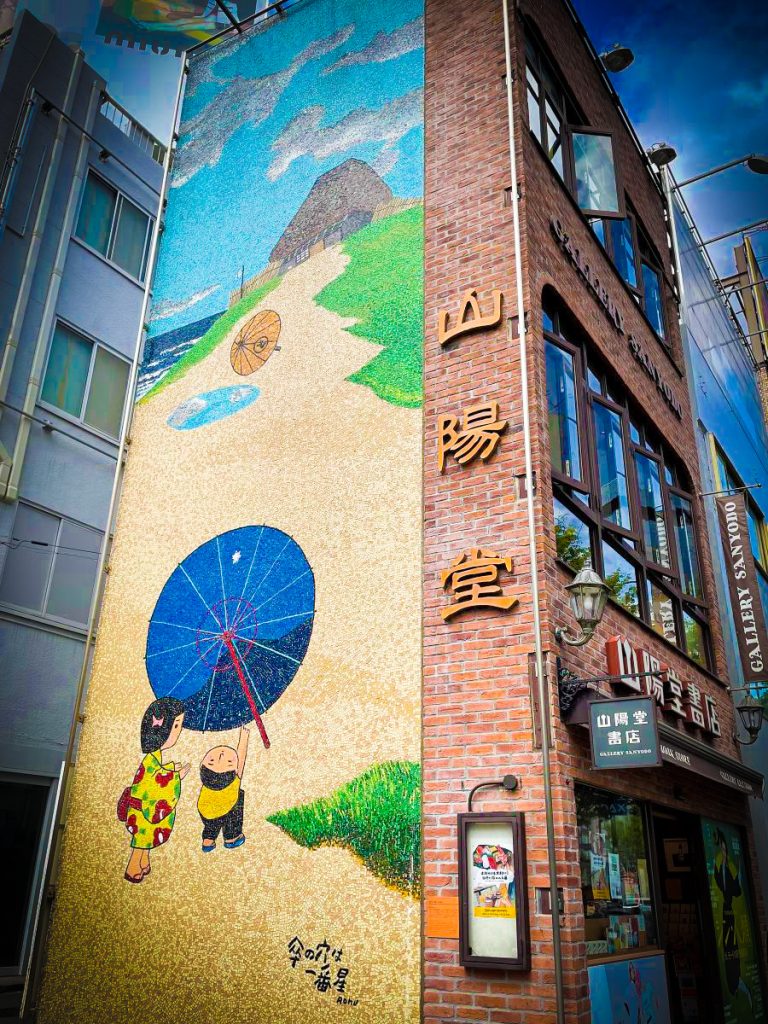 In 1975 Taniuchi Rokuro established a studio in Kamoi, Yokosuka City, Kanagawa Prefecture. I began teaching children's art at Nemunoki Gakuen (Hamaoka-cho, Ogasa-gun, Shizuoka Prefecture), which was run by Mariko Miyagi. However, on January 23, 1981 56, he died of acute heart failure at his home in Kinuta, Setagaya Ward. He was 59 years old.
On January 23, 1998, the 10 bereaved family of Taniuchi Rokuro donated about 5,000 items including the original cover drawing and illustrations of "Weekly Shincho" to Yokosuka City for display at the Yokosuka Art Museum. In connection with the donation, a contract was signed to pay a commission fee of 228,700 yen per month to Rokuro Yachi's eldest daughter as an adviser to the museum. It was supposed to be extended every 1 year for a maximum of 25 years, and a total of about 70 million yen was to be paid until maturity.
However, in 2009 21, 2 Yokosuka citizens sued the mayor of Yokosuka, Yoshida Katsuhito, alleging that this advisory contract was an illegal expenditure, and it was not included in the FY 22 2010 budget and was terminated. Then, the bereaved family filed an appeal to return the donated works, and the city of Yokosuka refused to do so. In the end, the judgment of the first instance court ruled that "there is no obligation to return" and the appeal of the bereaved family was rejected in the judgment of the second instance court 26 on March 20, 2014.