1921 (Taisho 10) Saturday, October 15 On this day, Ryusei Kishida painted Reiko Smiling. It is said to be the most famous masterpiece among many Reishi statues. It is now owned by Tokyo National Museum as an important cultural property. It is featured in history and art textbooks, so it can be said that it is very familiar to many Japanese people. It is a work with a very mysterious charm, and you will never forget the portrait once you see it. While it has a somewhat eerie atmosphere on a dark background, the red wool shawl with very fine details makes you feel warm. It shows how Ryusei Kishida drew his 8-year-old daughter with affection. Reiko, who has a bobbed hair, is smiling with her corners of her mouth raised, which is said to have been influenced by Leonardo da Vinci's "Mona Lisa.".
Well, Ryusei Kishida was born on June 23, 1891 (Meiji 24), so he was 30 years old at that time, 31 years old on the count. The diary of this time was published by Iwanami Bunko as "Plum Record Ryusei Diary". It is very interesting as it describes the frank feelings of Ryusei Kishida who loved his family and daily events. I would like to introduce the diary of this day.
Saturday, October 15 I got up at 9:30 today because it was late last night. When I read the newspaper while I was on the floor, I found that a man in the "Yomiuri" who I thought was Kato had become tactful and had written unpleasant things about him, which made me feel disgusted. But after all, no matter what others think of me, I can't be more proud if I leave my work in the world. I am confident that I will never be appreciated, hated, or hated by others, so I am temporarily deep. A yakuza is a yakuza. Go to sketch at about 10 o'clock. As he could not find a good place, he went to Sadao TSUBAKI's house, and although he went to do sketching with him again, he separated from TSUBAKI, and went to a place with a stone wall and a bank with Komatsu drawn last spring, and drew a similar picture. I have a taste of Japanese painting in the pine tree. He came home around 1 o'clock. Reiko has also come back, so after 2 o'clock, the portrait of Reiko will be finished around 4 o'clock. The camellias are coming. Shigeru also goes to work and wrestles with camellia for the first time in a long time. I got it on September 21. After 6 o'clock, Tsubaki and his wife went home again. The moon is bright and beautiful. When I told Reiko to be a good boy and good at school and writing, to be strong and not to make a ghost, I put my hands together and prayed. He's cute. When I was singing a nagauta with camellias for dinner and beer, I visited with a man I know who said that Kitano Kojiro was lucky. Bathing. Kitano will be back around 9 o'clock. Camellias will come back around 9:30. I received Chinese sweets from Kitano. Mr. Ueda from Osaka asked me to attend a lecture at the Japan Art Academy and to be present at the screening.
Ryusei KISHIDA "Digest of Diary" Iwanami Bunko, 1998,137 -138 pages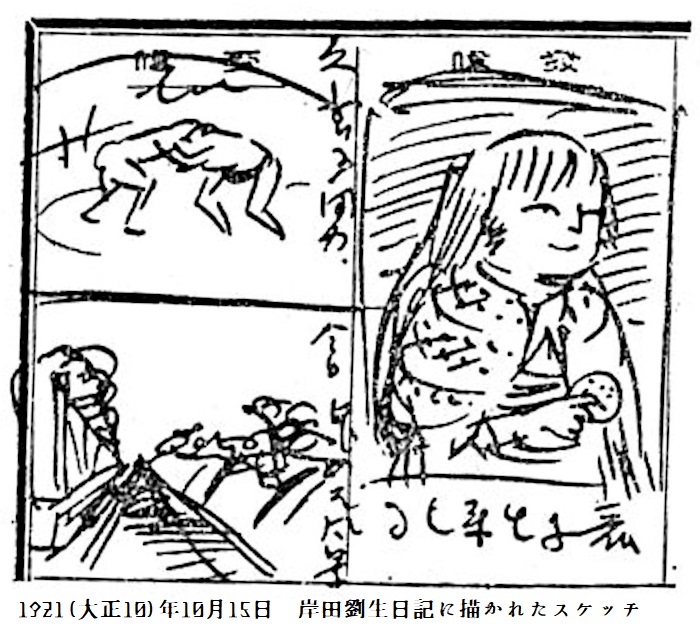 I have two daughters, five and seven years old, so I understand the situation of Reiko, who worships the moon with her hands together and is honest and cute. Reiko grew up full of love. What happened after that? On December 20, 1929, Reiko was 15 years old, but her father, Ryusei Kishida, died young at only 38 years old due to gastric ulcer and uremia. In 1937, 12 Reiko married Sadajiro TAKIMOTO, a dentist at the age of 23. She had three children, but divorced after the war and remarried Koshiro Usui (Kishida Koshiro), a high school teacher who later became a writer. However, Re 37 iko died suddenly on July 26, 1962, at the age of only 48.